Wreck-it-Ralph
opens today! A lot of extremely talented artists worked on this movie and it shows. Very funny with great emotional moments. Congratulations to Rich Moore, Clark Spencer, Jen Lee, Phil Johnston and the entire story crew headed up by Jim Reardon!
Here is the only drawing I ever did and it wasn't meant for the movie. This was from script feedback I gave in 2010. I was jotting notes and drawing what I thought the characters looked like in my head.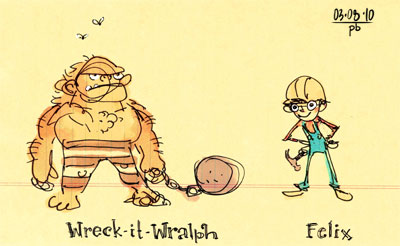 Also, the incredible short, Paperman, by John Kahrs is in front of Wralph!
Go see it!